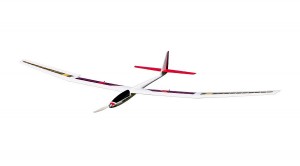 The E-flite® Mystique™ 2.9m ARF aircraft is an electric sailplane inspired by
F5J-class competition and similar Limited Motor Run events popular around the
globe. Like most sailplanes focused on performance, the Mystique 2.9m sailplane
delivers an outstanding RC soaring experience, even if all you're looking for is
a glider to enjoy on a lazy afternoon. Its impressive wing uses the versatile
Selig SD3021 airfoil that's proven to be excellent in model applications with
lightweight, open-bay construction by offering good low speed characteristics,
as well as the ability to move quickly from thermal to thermal.  The contour of
the molded fiberglass fuselage is sleek yet provides ample room for its pushrods
to run internally and still have room for a powerful Li-Po motor battery.
Visit E-Flite for more information, pictures, and video.
Product Specifications
Wingspan:
114 in (2.9 m)
Overall Length:
58.5 in (1.48 m)
Wing Area:
1034 sq. in. (66.7 sq. dm.)
Flying Weight:
4.20-4.60 lb (1.90-2.05 kg) unpowered; 4.85-5.00 lb (2.20-2.25 kg)
powered
Motor Size:
Power 25
Radio:
6-channel minimum radio system
Servos:
6 required (2 mini, 4 thin wing)
Trim Scheme Colors:
UltraCote White, Transparent Red, Transparent Yellow
CG (center of gravity):
4.75 in (122mm) from leading edge of wing at wing root
Wing Loading:
10.9 oz/sq. ft.
Prop Size:
14 x 8 folding
Spinner Size:
1.57 in (40mm)
Speed Control :
60-Amp brushless
Recommended Battery:
11.1V 3S 3200mAh 30C Li-Po
Flaps:
Yes
Control Throw (Ailerons):
18° up, 12° down, 25% expo
Control Throw (Elevator):
15° up/down, 10% expo
Control Throw (Rudder):
30° right/left, 15% expo
Control Throw (Flaps):
30° for landing; Reflex 1/16 in. (1.5mm) up; Camber 1/8 in. (3mm)
down
Minimum Age
Recommendation:
14 years
Experience Level:
Intermediate
Recommended Environment:
Outdoor
Assembly Time:
10-15 Hours
Is Assembly Required:
Yes                                  Map $369.99  List $539.99  (EFL4905)