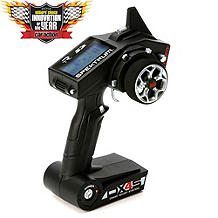 The new DX4C DSMR radio with AVC and SRS4210 receiver has arrived.  Some of the features are 20 model memory, programmable up or down timers, travel adjust, exponential, steering mix, programmable mix and AVC-Active Vehicle Control.  This radio is also backwards compatible with DSM, DSM2 and marine specific Spektrum receivers.
SPM4210  DX4C w/SRS4210  Map $139.99
Pricing subject to change……..