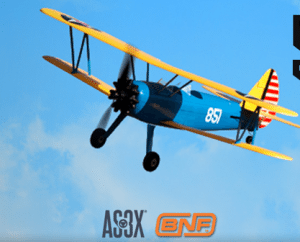 UMX PT-17 with AS3X BNF
Built by the thousands to train pilots for the U.S. Army during WWII, hundreds of the PT-17 biplanes still fly. Many served as crop dusters and were given radial engines that doubled their horsepower. Not just tough, its well-mannered flight characteristics helped make it a general aviation treasure that's a popular sight at air shows around the world.
All you need to start flying the UMX PT-17 as soon as possible is a 4+ channel transmitter with Spektrum DSM2®/DSMX 2.4GHz technology.
Check out the video … https://www.youtube.com/watch…
A Few Key Features
– Advanced AS3X® technology delivers rock-solid handling
– Proportional four-channel control
– Modeled after the full-scale PT-17 owned by Pat Hartness
– Realistic-looking radial engine detail
– Industry-leading Spektrum™ DSMX® 2.4GHz technology
– Ultra micro linear servos (installed)
– 150mAh 1S 3.7V 25C Li-Po battery (included)
– USB 1S Li-Po flight battery charger (included)
– Ultra-lightweight, fully assembled airframe
Product Specs & Details:
http://www.e-fliterc.com/Products/Default.aspx…