Archive for the 'Cars' Category
Black Traxxas Mustang GT RTR is here!  Stop by, check it out and purchase yours today! Requires Battery, charger and AA's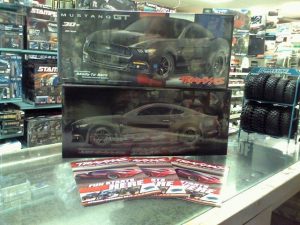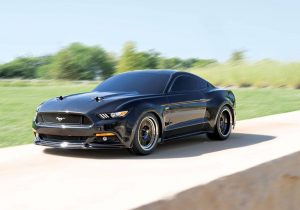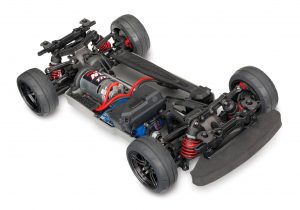 All of us here want to give a big "Thank You" to our friends at Traxxas for this "Awesome" plaque. 

We have had fun selling and running Traxxas products for the past 31 years and look forward to many more!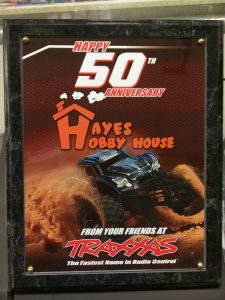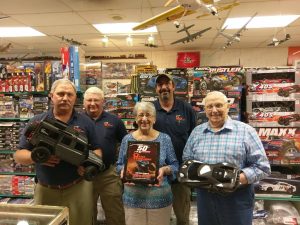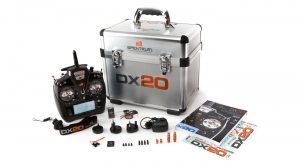 Focal FPV Wireless Headset with Diversity
Powerful Features for the Expert Pilot.
WIRELESS CAPABILITIES AND A COMFORTABLE FIT
Key Features
Wireless head tracking and channel selection

640×480 optics

32° field of view

Adjusts to user's eye spacing (IPD)

Comfortable, foam-padded mask

Built-in cooling fan prevents fogging

Antenna diversity

2S 1800mAh LiPo battery with LED voltage indicator

Includes banana plug charge lead (charger not included)
Overview
Once again, Spektrum™ innovation leads the way with the Focal™ FPV headset. It combines the video quality of a premium Fat Shark headset with Wireless Trainer Link technology to give Spektrum users an extra dimension of freedom when flying or driving FPV.
Wireless Head Tracking and Channel Adjustment:  

 A built-in module allows the Focal headset to communicate with any Spektrum transmitter that has Wireless Trainer Link technology. This makes it possible to use head tracking without a cord and change camera channels on the fly.
Outstanding Image Quality:  

 Focal users will enjoy crisp, clear 640×480 optics and a perfectly proportioned, 32? field of view. The distance between the optic screens – also known as the Inter-Pupilary Distance – can be adjusted to match the spacing of a user's eyes.
Antenna Diversity:

 Depending on the mission, Focal users can optimize headset reception with long-range antennas, omni-directional antennas or both.
Take a look at this …
TEN-SCBE RTR, AVC: 1/10 4WD SCB
The Audi R8 LMS ultra created by the Belgian W-Racing Team was designed to do one thing, go head-to-head in GT3 class racing against the world's best.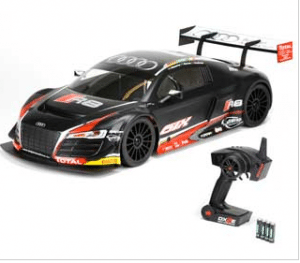 The Audi R8 LMS ultra created by the Belgian W-Racing Team was designed to do one thing, go head-to-head in GT3 class racing against the world's best.
The 1/6-scale AWD Losi® Audi R8 LMS ultra honors the W-Racing Team's creation with an impressive scale model that puts you in charge of a no-holds-barred RC supercar.
Featuring a massive 1200Kv brushless motor typically found in 1/5-scale vehicles and an impressive 160A ESC, the Audi R8 LMS ultra surpasses nearly every other RC supercar on the market with speeds of 60+ MPH.
To help manage this outrageous power, Spektrum™ AVC® (Active Vehicle Control™ ) technology has been included. Using AVC you can dial in extra directional stability and throttle control and harness the ridiculous power of this impressive supercar.
Check it out on YouTube …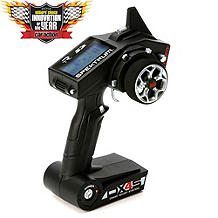 The new DX4C DSMR radio with AVC and SRS4210 receiver has arrived.  Some of the features are 20 model memory, programmable up or down timers, travel adjust, exponential, steering mix, programmable mix and AVC-Active Vehicle Control.  This radio is also backwards compatible with DSM, DSM2 and marine specific Spektrum receivers.
SPM4210  DX4C w/SRS4210  Map $139.99
Pricing subject to change……..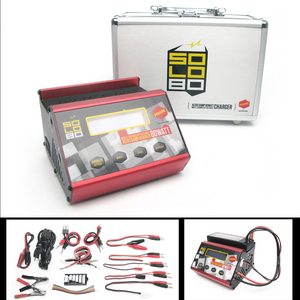 The new Racers Edge Solo 80 charger has arrived.  This 80 watt, 6 amp, AC/DC multi-chemistry balance charger is loaded with features and accessories. The Solo 80 will charge 1-6s LiPo/LiFe/LiIon batteries, 1-15 cell NiMh/NiCad batteries and is equipped with a USB port.  Accessory charge leads include Tamiya, Traxxas HC, Deans Ultra Plug, Pro Bullet, Alligator clips, Futaba RX, JST and an open lead to solder your choice of connector.  All of this is housed in a custom aluminum carry case.
RCE SC1800  Map  $79.99
Price subject to change…….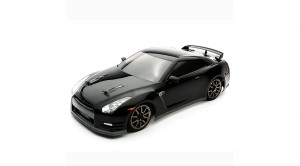 The newest offering from Vaterra is the 1/10 2012 Nissan GT-R.  It is a shaft driven 4wd sedan with sealed differentials, waterproof electronics and Lipo ready speed control.  Everything need to take this GT-R out for a spin is included in one box. Some of the components included are a Spektrum DX2E 2.4 radio system, Dynamite 7.2volt 1800mah battery and Dynamite 2A AC peak charger.  For more info check out the Vaterra website.
Vaterra GT-R  $279.99  (VTR03004)
Pricing subject to change……….
ECX offers 1/10 electric ready-to-run offroad vehicles for your first step into radio controlled buggies and trucks…. Torment SCT, Boost buggy, Ruckus monster truck and Circuit stadium truck……  These vehicles come with everything in one box.  Some of the features include 2.4GHz radio system, 15T esc, 15T motor, 2 amp peak charger and battery pack. Visit ECX for more info.
Prices range from $149.99 to $169.99.
Prices subject to change…………