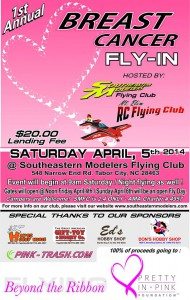 The Southeastern Modelers Flying Club along with the Mt. Elim RC Flying Club will host their 1st Annual Breast Cancer Fly-In on Saturday April 5, 2014 at their club field located at 548 Narrow End Road, Tabor City, NC 28463.  Event begins 9:00 am Saturday.  100% of proceeds going to Pretty In Pink Foundation.  Please come out and support this event!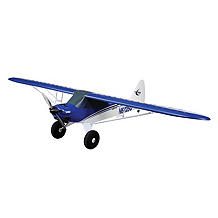 The E-flite Carbon-Z Cub, designed by Quique Somenzini, will take you from scale cruising flight to wild aerobatic flight.  It's 84.6″ wingspan makes a great platform for mounting a camera with the available (EFL1045023) mount. Aerotowing is an easy setup,  just  add the (EFLR7155) tow release servo.  Purchase a set of floats (EFL1045016) for flying off water. In  all of these flight modes the Spektrum AR635 AS3X receiver keeps this plane stable and on track. When using the flaps, short stahl type landings to even shorter takeoffs are possible. The Carbon-Z Cub comes equipped with brushless motor, 60 amp esc, Ar635 receiver and all servos installed.  Plug in wings make for easy transport and assembly.  All that is needed to complete is a DSM2/DSMX transmitter, 3200 mah 22.2 volt lipo battery and lipo charger.  Also available in a PNP version. Visit E-flite for more info.
EFL 10450 BNF Basic  $399.99          EFL 10475 PNP   $379.99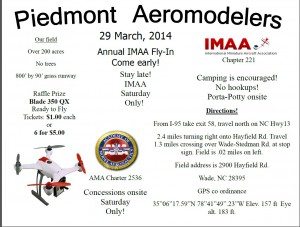 The Piedmont Aeromodelers will host their Annual IMAA Fly-In on Saturday March 29, 2014.  Flying begins at 9:00 am at their club field located at 2900 Hayfield Road, Wade, NC 28395.  Come out and support the club and enjoy a great day of flying!   Event Flyer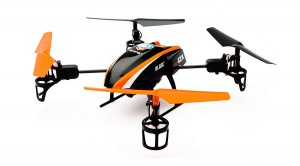 Blade Helis has just released it's newest quad, the 180 QX HD.  This  quad comes equipped with a 720p camera which is capable of  video and still pictures all controlled from the transmitter.  It also has the proven SAFE technology for stability and easy flying.  The 180 QX has 2 stability flight modes and 1 agility flight mode to take you from mild to wild.
Visit Blade Helis for more information.
Blade 180 QX HD RTF   $179.99  (BLH7400)
Blade 180 QX HD BNF  $149.99  (BLH7480)
Pricing subject to change……..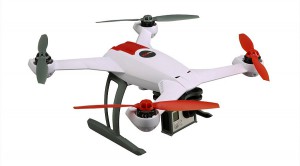 Blade has released another innovative aircraft, the Blade 350 QX Quad with SAFE Technology. It is available in both RTF and BNF versions. The primary feature of this quad is Horizon Hobby's  SAFE Technology (Sensor Assisted Flight Envelope).  This quad also offers many unique features such as Smart Mode, Stability Mode, Agility Mode, GPS/Altimeter Technology, Safe Circle, Stick Relativity, Return Home and Go Pro Compatible Mount (Go Pro Camera not included).  The 350 QX is great for the beginning flyer as well as the experienced pilot. For more information and videos visit Blade
Blade 350 QX RTF  $469.99  (BLH7800)
Blade 350 QX BNF $419.99  (BLH7880)
Pricing subject to change…….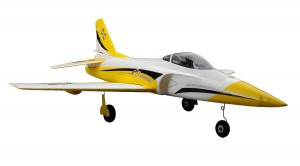 The new E-Flite Ultra Micro Habu 180 DF BNF Basic has arrived.  This may be a little jet but it is big on fun!  With the landing gear in place you can land and take off from a hard surface or you can leave the landing gear off for grass field flying.  Some features include the proven AS3X system, E-flite 28mm Delta-V 180 EDF system,11750kv  inrunner brushless motor and 4 linear long throw servos.
You will need at least a 4 channel DSM2/DSMX compatible transmitter, 7.4v 2s 200mah 25c+ lipo battery and charger. Visit E-flite for more info.
E-flite Habu 180 DF BNF Basic (EFLU4450) $124.99 Pricing subject to change…….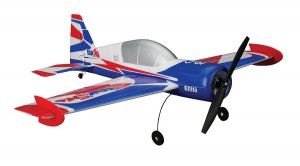 The newest ultra micro from E-Flite is the Yak 54 BNF.  It has a Spektrum AS6410NBL with AS3X for precise 3D aerobatic control as well as the 180 brushless 3000kv motor for unlimited power and a 150mah 2S 45c lipo battery to keep this little jewel airborne.  For complete specs and a video visit E-Flite.
E-Flite Yak 54  $169.99  (EFLU5080)
Pricing subject to change……..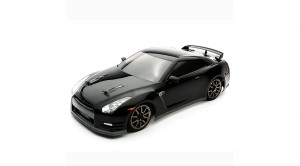 The newest offering from Vaterra is the 1/10 2012 Nissan GT-R.  It is a shaft driven 4wd sedan with sealed differentials, waterproof electronics and Lipo ready speed control.  Everything need to take this GT-R out for a spin is included in one box. Some of the components included are a Spektrum DX2E 2.4 radio system, Dynamite 7.2volt 1800mah battery and Dynamite 2A AC peak charger.  For more info check out the Vaterra website.
Vaterra GT-R  $279.99  (VTR03004)
Pricing subject to change……….