Archive for the 'Radios' Category
Mark your calendar!
May 12, 2018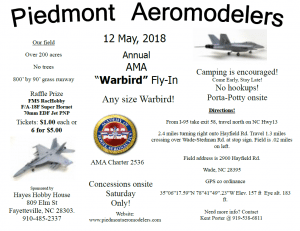 All of us here want to give a big "Thank You" to our friends at Traxxas for this "Awesome" plaque. 

We have had fun selling and running Traxxas products for the past 31 years and look forward to many more!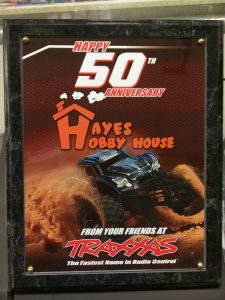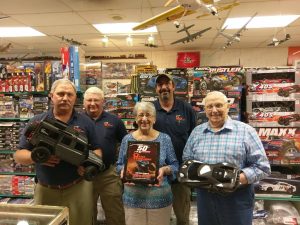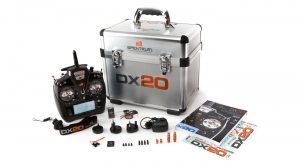 Focal FPV Wireless Headset with Diversity
Powerful Features for the Expert Pilot.
WIRELESS CAPABILITIES AND A COMFORTABLE FIT
Key Features
Wireless head tracking and channel selection

640×480 optics

32° field of view

Adjusts to user's eye spacing (IPD)

Comfortable, foam-padded mask

Built-in cooling fan prevents fogging

Antenna diversity

2S 1800mAh LiPo battery with LED voltage indicator

Includes banana plug charge lead (charger not included)
Overview
Once again, Spektrum™ innovation leads the way with the Focal™ FPV headset. It combines the video quality of a premium Fat Shark headset with Wireless Trainer Link technology to give Spektrum users an extra dimension of freedom when flying or driving FPV.
Wireless Head Tracking and Channel Adjustment:  

 A built-in module allows the Focal headset to communicate with any Spektrum transmitter that has Wireless Trainer Link technology. This makes it possible to use head tracking without a cord and change camera channels on the fly.
Outstanding Image Quality:  

 Focal users will enjoy crisp, clear 640×480 optics and a perfectly proportioned, 32? field of view. The distance between the optic screens – also known as the Inter-Pupilary Distance – can be adjusted to match the spacing of a user's eyes.
Antenna Diversity:

 Depending on the mission, Focal users can optimize headset reception with long-range antennas, omni-directional antennas or both.
From UMX™ to giant scale, every Horizon Hobby airplane, heli and Spektrum™ air radio is eligible for a 10% rebate

.

spring_fever_rebate_form
To qualify for the rebate, all you have to do is buy any in-stock Hangar 9®, E-flite®, ParkZone® and HobbyZone® airplane, Blade® helicopter, Staufenbiel™ aircraft and Spektrum™ air radio on or between April 8 and April 17.
To be eligible for the 10% off rebate, purchase any in-stock, proprietary, air radio, fixed-wing airplane or helicopter between 12:00AM CST on April 8, 2016 and 11:59PM CST April 17, 2016. Drones, quadcopters, multirotors, distributed brands, pre-order or backorder items are ineligible to receive this rebate. For in-store purchases, receipt must clearly show the date and be initialed by a store representative.
XG6 6-CH DMSS TRANSMITTER W/RG612B RX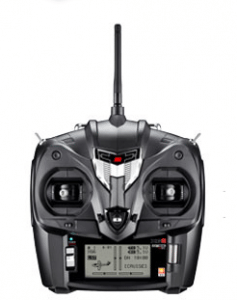 Features
 JR – JRP00672 – XG6 6-Ch DMSS Transmitter w/RG612B Rx
High-speed performance DMSS" System
Full telemetry features with Rx voltage standard; optional telemetry sensors available
Lightweight, high-grip, flat-body design
High-resolution graphic LCD display
Easy 3D jog dial input
Sophisticated programming including flight modes
Advanced digital trim and touch select function
Power saving technology
XG8 8-CH DMSS TRANSMITTER W/RG731BX XBUS RX, BLACK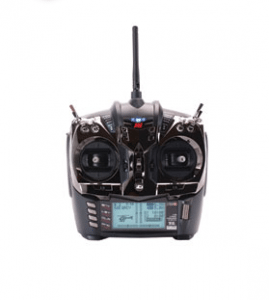 Features
 JR – JRP00596 – XG8 8-Ch DMSS Transmitter w/RG731BX XBus Rx, Black
XBus Equipped
Large, backlit screen
30-model internal memory
Airplane, helicopter and glider program options
SD card slot for data sharing, storage and updates (SD card required)
Li-Fe 6.4V, 1400mAh 2S transmitter battery pack
Integrated charging circuit
9V AC/DC adapter supplied with automatic shutdown
Lightweight (770 g) transmitter design
Easily adapts to stick modes 14
Data entry via scroll bar and four push-button keys
Telemetry with receiver voltage sensor built in
Optional telemetry sensors available
Stick tension and spring adjustment
Dual trim options
Dual side slide-lever controls
Touch Select System for switch selection
User-selected menu for frequently used functions
8-channel failsafe
User-assigned switch function
Programmable throttle cut
Two independent programmable timers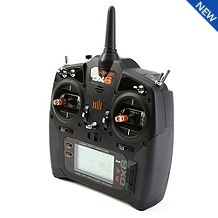 We just received the new Spektrum DX6 w/AR610 receiver.  This 6 channel is packed with features……250 model memory, 3 model types-Airplane/Helicopter/Sailplane, 4 sailplane wing types and 3 tail types, 7 aircraft wing types and 6 tail types, 7 swashplate types, 7 point throttle curve (air/heli) and 7 point pitch curve (heli), 5 programmable mixes, programmable voice alerts, telemetry, wireless trainer link and the list goes on…..to many to mention here!
SPM6700 DX6 w/AR610 receiver    Map $229.99
Pricing subject to change……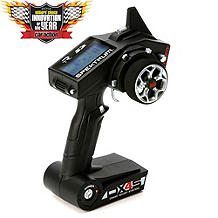 The new DX4C DSMR radio with AVC and SRS4210 receiver has arrived.  Some of the features are 20 model memory, programmable up or down timers, travel adjust, exponential, steering mix, programmable mix and AVC-Active Vehicle Control.  This radio is also backwards compatible with DSM, DSM2 and marine specific Spektrum receivers.
SPM4210  DX4C w/SRS4210  Map $139.99
Pricing subject to change……..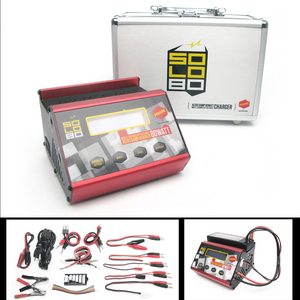 The new Racers Edge Solo 80 charger has arrived.  This 80 watt, 6 amp, AC/DC multi-chemistry balance charger is loaded with features and accessories. The Solo 80 will charge 1-6s LiPo/LiFe/LiIon batteries, 1-15 cell NiMh/NiCad batteries and is equipped with a USB port.  Accessory charge leads include Tamiya, Traxxas HC, Deans Ultra Plug, Pro Bullet, Alligator clips, Futaba RX, JST and an open lead to solder your choice of connector.  All of this is housed in a custom aluminum carry case.
RCE SC1800  Map  $79.99
Price subject to change…….