Archive for the 'Uncategorized' Category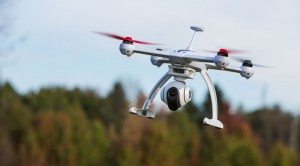 Key Features
Captures smooth, steady aerial video in brilliant high definition
Includes everything in one box
Easy to fly – no experience necessary
10 – 15 minute flight times
Mast-mounted GPS antenna for improved GPS performance
5.8GHz Wi-Fi link for compatible iOS and Android devices
Advanced SAFE® (Sensor Assisted Flight Envelope) technology
Smart Flight Mode – SAFE Circle™ barrier, stick relative control response and GPS/Altitude hold
AP Flight Mode – faster panning and tracking response with GPS/Altitude hold
Return Home function – aircraft returns to start up point and lands on its own
Blade® CGO2 GB 16MP 1080p/60 camera with integrated 3-axis brushless gimbal
8GB Micro SD card included for camera
E-flite® 3S 3000mAh 11.1V 30C Li-Po Flight Battery
E-flite DC Li-Po battery charger with AC adapter
Spektrum™ DX4 transmitter with mobile device mount
Four AA transmitter batteries
Visit Blade for more info
BLH8160 Blade 350QX3 AP Combo RTF  Map  $999.99             Pricing subject to change……..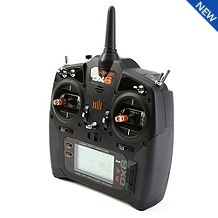 We just received the new Spektrum DX6 w/AR610 receiver.  This 6 channel is packed with features……250 model memory, 3 model types-Airplane/Helicopter/Sailplane, 4 sailplane wing types and 3 tail types, 7 aircraft wing types and 6 tail types, 7 swashplate types, 7 point throttle curve (air/heli) and 7 point pitch curve (heli), 5 programmable mixes, programmable voice alerts, telemetry, wireless trainer link and the list goes on…..to many to mention here!
SPM6700 DX6 w/AR610 receiver    Map $229.99
Pricing subject to change……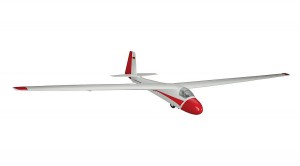 For the sailplane pilot our just for those looking for a different challenge, Park Zone has released their new Ka-8 which is available in BNF or PNP.  It has a wingspan of 2.25 meter and is a 4 to 5 channel model with elevator, rudder, aileron and spoilers. With the optional tow release (EFLA405) the Ka-8 can be aerotowed.  Both models include a 6 channel DSM2/DSMX  receiver and servos.  The BNF version also comes with a 7.4 2s 1300mah lipo battery and regulator to power the electronics. Both versions require a suitable hi-start for launching.  Visit Park Zone for more info.
Ka-8 BNF  $219.99  (PKZ6680)
Ka-8 PNP  $159.99  (PKZ6675)
Pricing subject to change……
…your home for the pure joy of flying — whether you're an experienced hobbyist or a newcomer searching for sure-fire success. Flyzone has a fully-equipped, factory-assembled plane for everyone. Stretch your wings indoors or out…choose a model with unique looks or one realistically scaled…focus on the sheer excitement of flying and leave everything else to us. Flyzone. How high will you soar?
Aircraft Ready for Your Transmitter
Fly the DHC-2 Beaver— and all other Tx-R aircraft — with YOUR favorite transmitter!
Already own a transmitter that's set up just the way you like? Use it to fly your favorite Flyzone planes!

That's the simplicity and value of Tx-R. As long as your transmitter is AnyLink-compatible — nearly all brands, bands and modulations are — it will fly this model. In most cases, you'll just plug the tiny AnyLink (available separately) into your transmitter's trainer port. Then you're ready to send secure signals to the SLT receiver included with Tx-R models. See

tx-ready.com

for full details.

Another Tx-R advantage: The included components are installed and expertly matched to the model for optimum performance — no guessing what components will work best.

This Select Scale Tx-R includes:

Powerful brushless motor and ESC
2.4GHz SLT receiver compatible with Tactic AnyLink
4 preinstalled micro servos

FLZA4022 – Tx-R
Wingspan: 59.5 in (1510 mm)
Wing Area: 430 in² (27.7 dm²)
Weight: 3.0 lb (1360 g)
Wing Loading: 16-17 oz/ft² (49-52 g/dm²)
Length: 38.5 in (980 mm)
Requires: AnyLink and compatible 5-channel transmitter, 1800mAh 11.1V LiPo battery and compatible charger

Visit

Flyzone

for more information on this beautiful airplane!

For a limited time receive a free Anylink with purchase of this airplane!

Map $209.99  List $$249.99  (FLZA4022)